Purple Bulldog logo & custom stationery design and personalized business cards
Key ideas of the Purple Bulldog logo and stationery design
Purple Bulldog is a starting innovative new media technology company.
The Purple Bulldog logo, as well as the bulldog mascot, the fine custom stationery and the personalized business card designs are based on a very modern design of a friendly looking bulldog. It's a distinctive and eye-catching corporate identity design.
Purple Bulldog design requirements for the logo, mascot, stationery and business card designs
The idea is to design the full corporate identity of this new media company: the main Purple Bulldog logo (probably based on a bulldog mascot design) and the customized stationery, including a personalized business card design.
The company image should be based on a purple bulldog logo. The design of this bulldog mascot should not be aggressive or intimidating, but friendly and innovative. Do not use an over-the-top bulldog illustration, but try to design a more abstract conceptual approach of this friendly bulldog logo. The key is to create a very original and distinctive bulldog logo design.
The custom stationery design should include the company letterhead as well as an envelope design. Include also a personalized business card design. And try to create a favicon based on the bulldog mascot design.
The desired color scheme should include a purple color. Try to use a dark purple in the logo design. A lime green color could be used in the bulldog logo, as well as in the business card and in the stationery design. You could use any number of colors, as well as gradients, but keep the print costs controlled. A subtle "Web 2.0" feel could be given to this logo and its customized stationery design.
Why the bulldog logo and the custom stationery designs work
The main idea was to create a friendly and modern purple bulldog logo design, based on a conceptual modern (nearly abstract and iconic) digital bulldog mascot design. So the key was to identify the main distinctive features of a friendly bulldog mascot, and to remove every other unnecessary element from this bulldog logo design.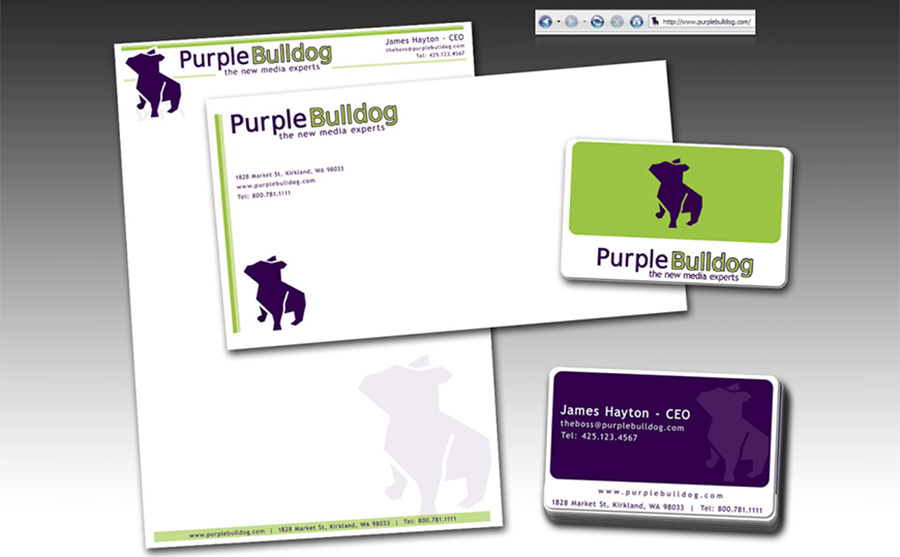 Most of the time, purple is a polarizing color: you'll either love it or hate it. To overcome this difficulty and create a custom bulldog logo design that would attract a wide range of people I carefully chose a dark purple color, pretty close to a dark navy blue or midnight blue tone. This way the final color scheme is coherent with the company name (the bulldog logo design had to be purple) but it's still an serious and professional color scheme.
The lime green color used in the design is the complementary color of the main purple bulldog logo color. This bright green color adds lively and fresh details to both the bulldog logo and the custom stationery and business cards designs. The final color combination is bright, modern and eye-catching.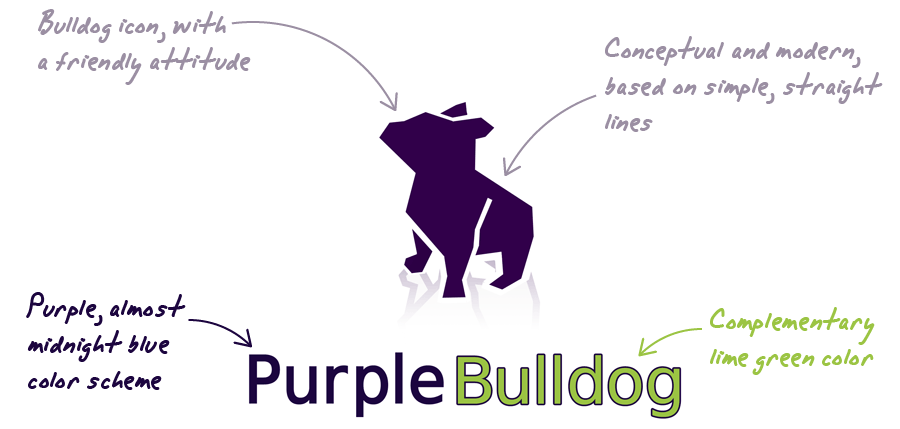 It's important to keep print costs under control when creating a custom stationery design. A company will have to print a lot of envelopes and paper sheets fully customized with their personalized logo design and corporate identity. So limiting the color number used in every design is usually a good design practice. This time, only two flat colors were used in the whole design. Effects such as the custom letterhead watermark, or the bulldog mascot logo reflection, were created just by using a percent variation of the flat ink. So the whole personalized stationery design, as well as the custom business card, is very easy and affordable to print using precise spot colors, while still being extremely eye-catching and appealing.
A modern, fine, and easily readable font was used for the Purple Bulldog logotype design, as well as for its tag-line and other custom stationery elements (such as the phone number and the company address). The key was to design a distinctive personalized stationery which could be easy to read at the same time.
The conclusion is that this is a very distinctive corporate identity design, that will work fine for a modern new media technology company. The fully original and eye-catching bulldog logo design is innovative and totally coherent with the other corporate identity elements, such as the custom stationery and the personalized business card designs.
Bulldog mascot logo custom stationery and personalized business card design details

Custom Bulldog favicon design: the bulldog mascot logo
The favicons are becoming more and more popular, specially for web based businesses. The latest version of every modern web browser fully supports favicons nowadays. And, in those latest browser versions, the favicon is continuosly displayed on the main browser tab or navigation bar too, as well as in your favourite web sites list. So having an appropriate favicon design that will strengthen your corporate identity is really worth the effort.
A good logo design should be based on a simple concept, and should convey a very clear idea. As the original bulldog logo met those conditions, creating a favicon based on this design was not a difficult task. The bulldog mascot design already had a simple, clean, distinctive and friendly shape that worked fine even when downscaled. The color limit of the favicon wasn't a problem as the bulldog logo design only required one flat color.
The result is a fully original custom favicon based on the bulldog mascot design, which remains pretty distinctive and friendly: a smart way to make your web visitors remember you, and quickly find your website when browsing their favourite websites list.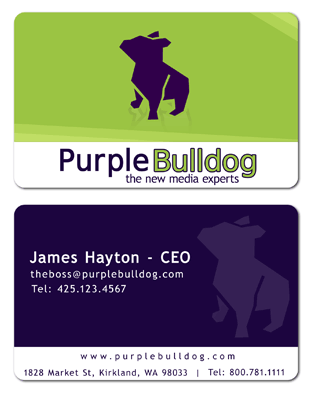 Custom business card design details
The importance of having a fully personalized custom business card is critical. The business card is usually the first way to contact your customer personally. And your business card design may finally decide whether your customer will call you or not.
That explains why requesting a fully custom business card design when creating a personalized stationery design for your company gives you an additional distinctive advantage.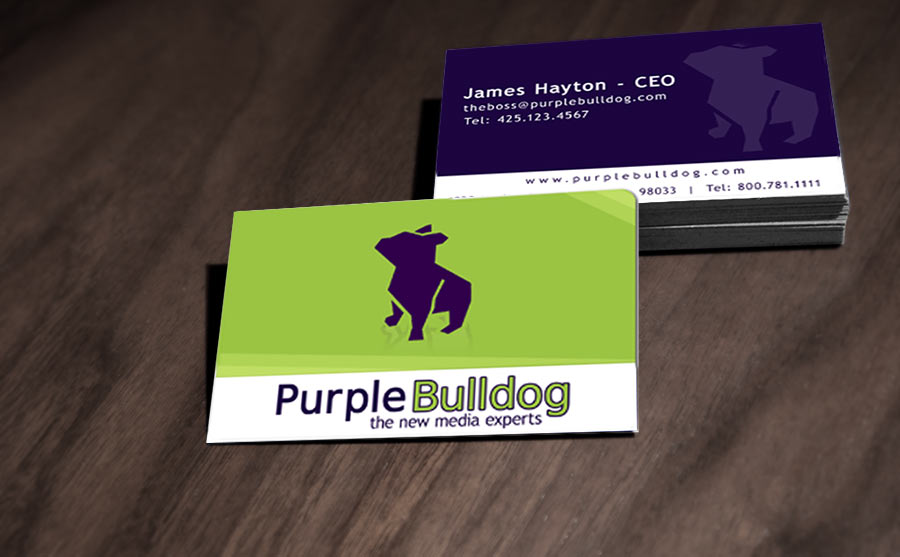 You will notice how these two main business card design ideas turn into better networking: to clearly show your corporate identity (mainly represented by your personalized logo design, so your customer will know who you are and will remember you) and to distinguish yourself from your competitors (you want your customer to pick your original and eye-catching custom business card design from his huge collection of business cards, don't you?)
This purple bulldog custom business cards design meets both main requirements: it displays the custom logo design in a clear way, and it's an original and eye-catching business card design by itself.