Green Tech landscape logo design ideas by Enrique Serrano
Key logo design ideas: green leaves, landscaping and technology
Green Tech is a company that provides landscaping services.
This logotype combines a clean "green technological" feeling with the "construction of a growing leaf" landscaping concept.
Customer's company logo requirements
The logo should be simple and clean, easy to print.
Some landscape relateds symbol (trees, leaves, hills, even a sun) may be used in the logo.
The logo style should be modern and professional.
The logo should be composed just of two flat colors. Green is the main corporate color.
Why this landscape logotype design works
The triple clean leaf logo symbol depicts the two main company concepts: it's like a "tech structure" and it's also "a landscape" and "a plant". The arc that contains the symbol balances the composition and reminds of a rising sun, reinforcing the overall idea of creating a "landscape". This circle also leads the viewer's attention towards the vertical leaf. It makes such vertical leaf symbol look like a growing plant. So this logo also takes into account the creative nature of landscape design activities.
The whole logo has a modern corporate feeling without being too artificial, tech or mechanical. It looks like a green environment construction and a naturally growing landscape. And it preserves a nice nature, creative and open air feeling.
The green colour scheme chosen reminds of the company name and strengthens the nature related activities of the company. The image requires only two flat colors, and works nearly on any light or dark background. This simple logo can be easily resized, as it's clean and bold enough to stay recognizable.
Other logo design ideas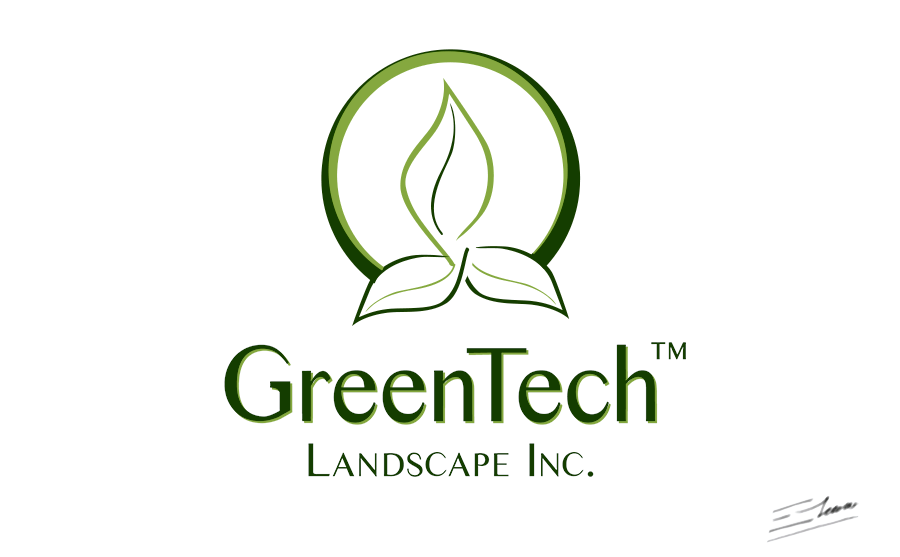 The growing leaf logo
A lighter version of the leaf symbol, based on flowing clean lines. It focuses more on the "growing leaf" idea rather than remarking a modern tech logo approach to this landscaping company.
It still extracts the maximum out of the 2 corporate colors. I finally preferred the other logo approach, as it looked bolder and worked better at a small size – the thin lines of this design made it harder to downscale. On the other hand, I still like this light and sleek logo concept.