Design of Key Design Build logo: a modern logo design for a construction, building and real estate services firm
The key ideas of Key Design Build logo design
Key Design Build is a firm that provides construction, building and real estate services.
The Key Design Build logo features a key shaped image that reminds of building and construction. This logo is an aesthetically appealing design by itself due to the tridimensional effects and shading, creating a professional firm identity, designed to stand out and to catch the viewer's attention.
Requirements of Key Design Build firm about their logo design
Key Design Build needed a professional logo that depicts a modern construction, building and real estate company.
The logo design should avoid topic construction concepts, as well as using a specific keyhole or key image. Nevertheless, an abstract key would be fine.
There is no color limit the for Key Design Build logo. As there are no predefined firm colors, this logo design may include any color. Color gradients are alright as well.
Key Design Build logo explained: details of this construction firm logo design
The inspiration came from the very firm name: Key Design Build. The key concepts of this construction firm were related to the key letter and to the building and real estate concepts. So a design based on an abstract capital key (K) constructed by building blocks would be appropriate.
This key shaped logo was desigend by constructing a compact, strong and stable building-like cube made of modern bricks that fit together. Building construction logo designs haveto be precise and rock solid. So this logotype design communicates the idea of a big, stable, professional and trustworthy construction firm.
This logo design is based on a blue color scheme that conveys an idea of serious, professional and trustworthy firm. The smooth color gradients, together with the three-dimensional effects, build an attractive logo with a modern feeling. The bright blue tones remark the key-shaped construction, thus remarking this building and real estate firm name.
The construction firm name was written using a modern typography, solid and compact but still easily readable. It's professional and straightforward without being too stark.
The key and construction concepts are easily recognized, so this logo design really represents the building firm in a memorable way. Such construction firm is introduced as a stable and trustworthy building company, with a modern, distinctive and eye-catching look.
Other Key Design Build logo variants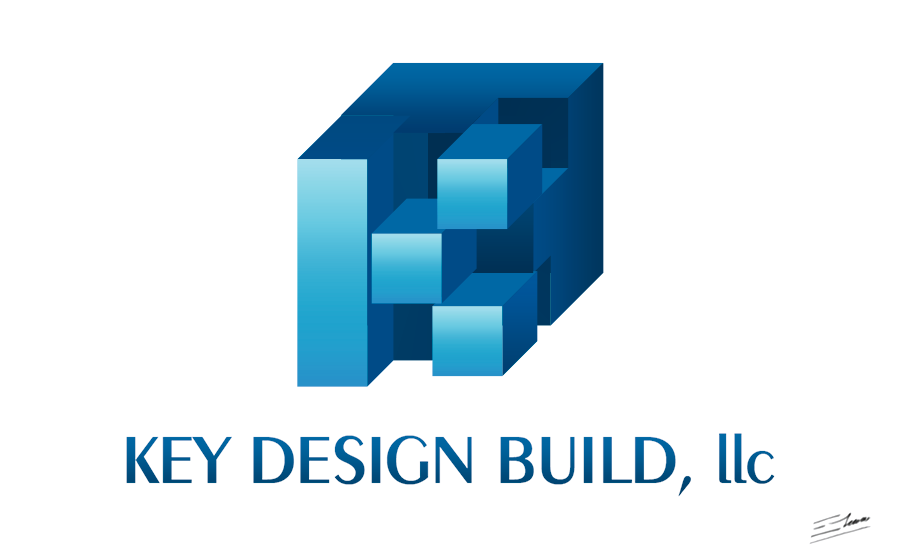 Key Design logo on white back
This is exactly the same design that the Key Design Build final logo version, but used on a white background, which demonstrates the versatility of this logo design on a wide variety of surfaces.
While the dark background logo design makes the key construction stand out even more, most real life applications of a logo design require clear or white backgrounds. And this construction firm logo design was built to stay strong when used on very different backgrounds without any additional tweak.