Advertising agency logo design: a creative infinity logotype design for adFinity – ads without end
Keys of this infinity logo design
adFinity is a creative advertising agency whose name is inspired by the latin sentence ad infinitum, which means to the infinity.
This logo design focuses on the infinity idea through a creative perspective effect based on dynamic lines, creating a very original logo, appropriate for an advertising agency.
Requirement specification of adFinity advertising agency
adFinity was looking for a modern and professional logo design that should depict their main ad oriented business ideas: their agency name (to the infinity) and the company
tag-line (ads without end).
The logo design should not include a topic infinity symbol (∞), but a more creative infinity design approach.
A color limit of 4 different flat tones was specified. The advertising agency had no corporate colors already defined.
The logo should include this ad agency name, as well as the company tag-line (case sensitive). A modern looking font is preferred.
Explanation of this infinity ads logo design
This logo focuses on a creative infinity related design, that stays away from the topic ∞ symbol while taking into account this main infinity idea of the advertising agency. The infinity logo is based on dynamic lines that escape to the infinity, leading the view to the infinity vanishing point.
By adding a dark shadow under the infinity lines, the whole symbol seems to float and rise, becoming a lighter and more dynamic design. A subtle 3D effect was added to the infinity escaping lines, remarking the dynamic effect and leading the attention to the center line infinity vanishing point.
A professional blue color scheme was chosen, adding bright and eye-catching cyan elements. That's the perfect mix between a professional company image, and a vivid advertising agency logo (as the very ads of this agency are: professional and eye-catching).
The customized font is modern and clean, with dynamic ascending soft lines: the rising and escaping "y" lines remark once more the infinity concept, while the rounded details make the whole advertising agency logo creative and inviting. The advertising agency tag-line is fully integrated with the logo text, creating an easy to use and compact logo design.
The result is a logo that incorporates an original infinity idea, creating both a professional and modern advertising agency identity design.
Logo variants of the infinity ads design concept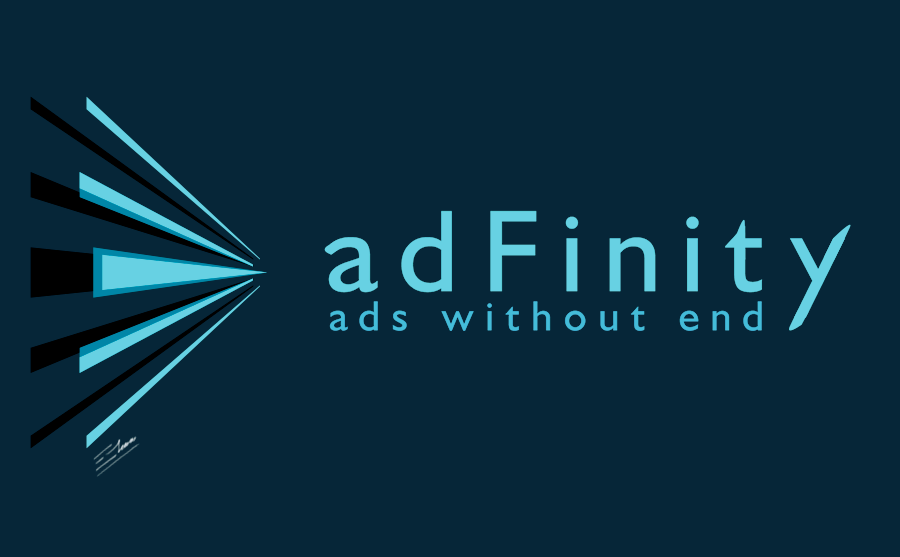 Horizontal layout logo design
This variant of the final logo design features a more compact horizontal logo layout that remarks even more the advertising agency name. The infinity effect is kept due to the vanishing point and perspective of the main logo design, that point to the creative agency name.
The design catches the attention from the infinity escaping lines on the left, moves through the full ad agency name, and then flows to the infinity thanks to the ascending "y" lines.