Financial firm logo: a stack of coins logo design for the financial company Strategies for Wealth
Key ideas of this Strategies for Wealth logo design
Strategies for Wealth is a financial firm that offers services to create and protect wealth.
This coin stack logo design depicts these main company ideas of protecting and creating wealth: a solid coin base on a growing stack of coins.
The requirement specification of the financial firm about the logo design
Strategies for Wealth was looking for a professional re-design of their main logo, depicting trust and building on success.
The new logo design should be clean and easy to print (the former logo had a complex structure of many thin stripes).
The two corporate colors, a navy blue and a light gray, were specified as Pantone colors.
The logo could include a graphic symbol. But using dollar signs or numbers in the logo should be avoided.
No script fonts could be used in the logotype.
Wealth logo design explained in detail
The key was to create a clean and professional logo design that depicted the key company ideas: creating and protecting wealth.
The wealth concept itself is depicted by one of the most traditional wealth related logos or symbols: a stack of coins.
By depicting a growing stack of coins (when viewed from left to right as a rising structure) this logo design symbolizes the idea of creating wealth. The incomplete lines of the last coin remark this growing effect, conveying an idea of growing continuity. Using two coins as the growing wealth base, the idea of having a stable base is remarked, thus depicting the protecting wealth concept.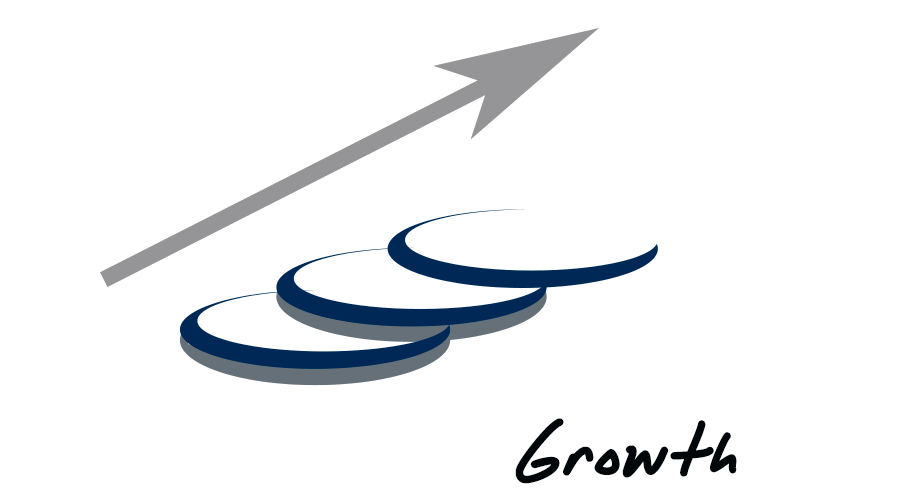 The logo design uses the two colors specified by the customer (in Pantone format, so we can guarantee an exact match when printing, keeping a very consistent brand image): a navy blue as the main color (which depicts a serious, professional and trustworthy image) combined with a light grey (used as a shade in the design). The logo makes good usage of the white background (the so called white or negative space) to convey a 3D effect and to stay clean and simple.
Finally, the chosen font matches the logo style perfectly – an easily readable text with a clean, and simple design. The logo of a financial firm should always follow an strategy of being professional and straight to the point.
This logo succeeds in depicting the main financial firm ideas in a very simple and clean way: the solid growing stack of coins is an icon of wealth that perfectly symbolizes the philosophy of the firm about creating and protecting wealth.