Stationery & logo design for a communication website: Final Party logo design as a heavenly last message
The keys of Final Party logo design: the heavenly party message
My Final Party is a communication website where users can register to send a final party message to their friends when such registered users die. It focuses on the celebration of life through a party, to remember the loved ones who have left.
This final party logo design focuses on the idea of celebration of life, depicting a final party message sent from the very gates of heaven. It's a happy and positive approach to a difficult subject.
The requirements of this communication website about their design
My Final Party was looking for a modern logo design that could convey a positive image. The key is to focus on a last party message of life celebration, that conveys happy positive feelings.
This logo design has to include the communication website address, as well as the tag-line "celebrate your life!" in a modern, friendly and easily readable font.
The logo design will be mainly used in the company website, so it can include any color number, as well as color gradients.
A completely customized stationery design was also requested, as well as a completely re-designed website, based on the new logo design.
Logo design, stationery and website: a communication set that works
The idea was to re-design this communication website in a modern and user-friendly way. It had to be a meaningful identity design as well, that depicted the main ideas of this company: a final message, about the celebration of life, remarking happy, positive feelings. This is what the main logo design is about: a warm and happy party message sent from the very gates of heaven.
The idea of "a party message from someone who has left this world" is the key of the customer's communication. This logo design takes into account such idea focusing only in the positive aspects: it's a warm party message, that comes in a heavenly fashion. So, while the envelope icon is easily recognized as a "message", the heaven gates introduce the idea of "someone who has left this world" in a happy and positive way.
The color scheme chosen for this logo design is based on heavenly soft blues, combined with complementary warm golden tones. It's a way to mix the heavenly concept with a warm color scheme. This way, the logo design stays calm, happy and positive. On the other hand, the stationary design focused on the soft blues color scheme, for color print saving purposes as well as to make the custom stationery design practical, subtle and useful.
A modern typography design introduces this communication company website. It's a clearly readable ligth modern font with a nice happy touch due to its soft rounded lines. The composition makes the whole text easily readable while including the tag-line "celebrate your life!" in a compact space, and leading the attention to the main most important element – this communication company name.
The final logo, website and stationery design succeed in conveying all of this communication website ideas, while turning a delicate subject into a warm, happy and positive celebration of life message.
Stationery design & website design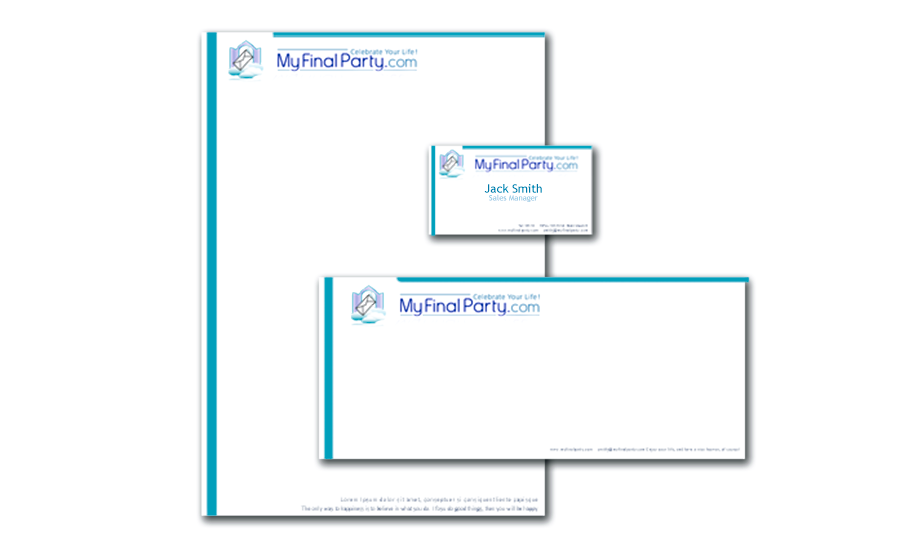 Final Party stationery design
This custom stationery design included business cards, envelopes and letterhead designs. It uses a simplified version of the logo design, that requires only 2 colors to be printed – so traditional print costs are kept under control, while maintaining this communication website corporate identity strong and coherent.
The stationery design focuses on a heavenly light blue color scheme, as it is very relaxing to the view, making all these elements practical and useful.
Final Party website re-design

This soft website re-design of their traditional platform follows the same ideas that the remaining designed components (the logo and the stationery designs), building a strong corporate identity for this communication website, consistent with this newly defined brand image. It's a modern website re-design, with an user friendly interface made of shining buttons, rounded corners and clean lines.
The re-designed Final Party website sends a heavenly inviting message that focuses once more on positive feelings and on the celebration of life, through a calm, relaxing and happy communication.