Tactile System Treatment: a logo design based on hands logo that remind of a butterfly
Key Tactile System Treatment logo design ideas
Tactile System Treatment provides touch theraphy and healing massage services.
This logotype design is a warm and professional symbol that presents the caring touch of two hands as a relaxing butterfly-like symbol.
Tactile System Treatment requirements about the logo design
Tactile System Treatment needed a logo that depicted their main concepts: warm and relaxing ideas of caring hands and tactile treatment.
The design style of the logo should be professional and somehow classic.
The logotype could contain any number of colors. Earthy and warm tones were preferred.
Hand symbols and butterfly symbols could be used in this logo design.
No specific font was defined, but a classic serif font would be appropriate.
The butterfly hands logo design explained in detail
This logo design takes into account the main requirements of Tactile System Treatment: it's a classic and professional logo design, it's touch-therapy-related, and it's a warm and relaxing symbol based on hands and butterflies.
The main idea of the healing touch and the tactile system treatment itself is depicted in the logo by two caring hands, reflecting on a clean and shiny surface. It's a relaxing touch, that identifies the main customer's company activity.
The design itself of the reflected hands reminds of a butterfly-like logo. Using a butterfly in this logo design is a right decision, as it is related with a soft, gentle, subtle, delicate and relaxing touch of the healing hands. Butterflies are also symbols of regeneration, and nothing can be more delicate than the touch of a butterfly, so this similarity carries an intense symbolism into the brand design.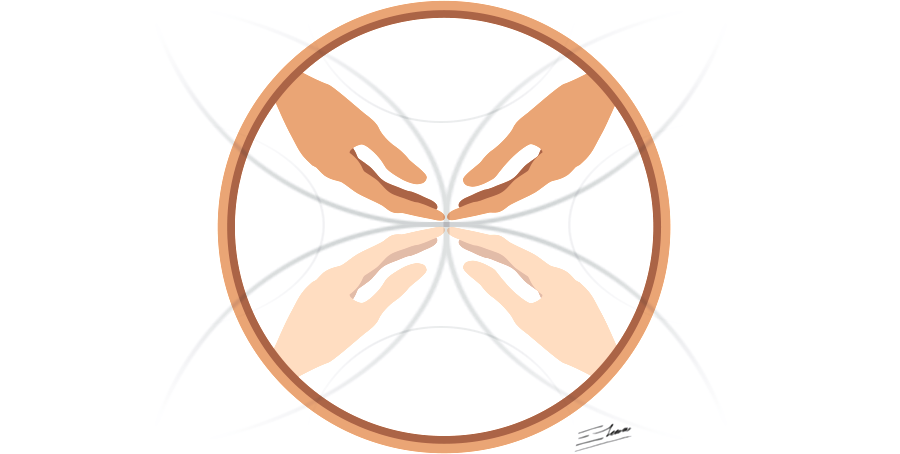 As requested, a warm color scheme was used in the logotype design. That's in fact the most appropriate color scheme for a tactile system logo design, as reminds of the caring touch of warm skin, and can associate warm comforting feelings with the brand itself. The logo requires just 2 colors with an opacity variation, which really provides very low print costs.
An elegant classic serif font with soft curves and thin agile lines was chosen to include the company name in the logo. This increases the classic and professional feeling of the whole logo design while being compact and clearly readable and staying warm and appealing.
The conclusion is that this tactile system treatment logo design is a professional symbol that conveys ideas of caring hands, a warm touch and a professional treatment.
Variants of the relaxing hands logo design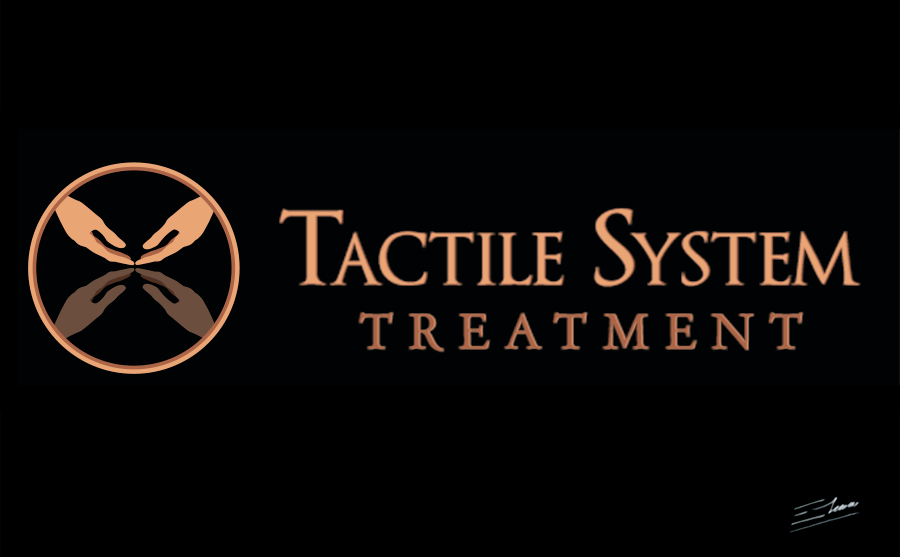 Dark background logo version
The main logotype version was optimized to work on a clean white background. This is a complementary design that allows the company to use the same logo on a dark background. It's based on the same color tones, but the text colors have been adjusted to improve readability. It also features a compact landscape layout.
While the relaxing, light and clean design is very appropriate for a tactile system treatment company, this dark background hands logo version is also a classic, professional and elegant approach.